Good morning everyone, I hope you all had a good Christmas.  I for those of you that noticed… I went dark for a few days.  Had a few things going on in my life and needed a little break.  I'm now back up and running.
I've had some time to think lately and this morning I was inspired to put my thoughts into words.  I wrote the following note to my wife this morning.  I wanted her to know a few things I was thinking.  Some may see it as some sort of acquiescence of power (not sure if that describes it but you'll get the idea.)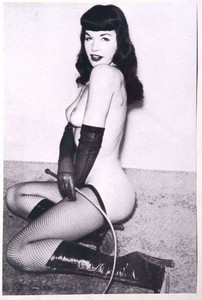 No, I haven't handed over the reins.  Betty Paige holding a crop is sexy though…
However, I believe that you can red pill, man up, grow a pair, however you want to describe changing your yourself, but without a cooperative partner you will be doing it by yourself.  So be it in some cases, but I think most men want their wives to join them in a better life.  At least I did.  If I didn't, I would not have married her in the first place.  I knew somewhere in there was the wife I envisioned and have today.  It just took a little work on myself to bring her out.
Anyway, here's what I wrote.  Good, bad or indifferent it is how I feel, and I believe achieved, my vision of success in marriage.
As I watched you shower this morning, enjoying your beauty, grace and our time together, I had opposing thoughts.
One, I was sad. Sad because as we close in on 50, we likely have less time left together than we've already spent together.  Time marches on and we as humans are just along for the ride.  We as people are responsible for how we perceive the ride and what we do with the time.
On the other hand, I was inspired.  Inspired because although we are facing the early afternoon of life, we are enjoying the most pleasurable part life's ride.  I have always enjoyed being with you despite our times good and not so good (as we've spoken about numerous times).  However, I believe we are now at the zenith of our good times together.  We have been, and are headed to, things I once thought would not be achievable in our marriage.  Places where if dealt a bad hand, I would still be able to look back and enjoy all we have accomplished as a couple.  
While I Captained the ship, I have no illusions.  I realize that without a willing and cooperative 1st Mate we would never have reached this glorious destination.  It took both of us to get here.  Knowing where you came from, family example and sexually naivety, I am so proud of you.  
I'd like to point out here that while I am referring to our sexual accomplishments, I am also talking about our marriage and relationship as friends, partners and teammates.  Without all these elements working in unison, you are building your castle on pillars of sand.  It will soon crumble like the proverbial house of cards.  
I am not sure where we have left to go.  I have ideas and goals for us, but whether we get there or not I cannot predict.  I do believe that with our past success and with our continued efforts to work as a team, the sky is the limit.  
Thank you for being my partner in this ride we call life… 
Hope you all have a Happy and safe New Year's Eve.