Early in our life together my wife was not very "sexual."  What I mean is sex was never on her mind, she viewed it as a necessary evil for a couple.  Looking back, I understand why.  How could something that was neutral at best and often painful (not in a good way) be a thing you could desire or look forward to.  So we languished in that rut of frustration, weekly reluctant sex that neither of us particularly enjoyed for different reasons.
Once I decided there would need to be a change, I immersed myself in learning what I was doing wrong and what I needed to do to get her to come along with me on the journey to happiness I know we both wanted.
As a result of my leadership and her trusting me we slowly but surely made progress.  As things got better in the bedroom, I was still frustrated with her prudishness when it came to sex.  She saw sexual jokes and innuendo as "boy humor."  She completely shut down any suggestions of sexy underwear, thongs, shaving pubic hair, sending dirty pics to me etc…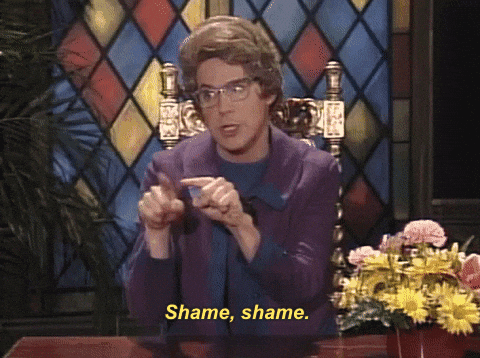 I remember the first crack in the wall.  It was at least eight years ago.  I had gone hunting in a neighboring state on our lease.  My buddy and I were gone for the weekend and I had called her.  During the conversation she made the statement, "I have a surprise for you when you get home."  Of course I tried to pry out of her what it was, but she held strong.  I honestly had no idea, we really aren't the big gift type couple.
When I got home I didn't see anything new.  No truck in the driveway, no new flat screen tv, no pool (or even a pool table).  Not even my favorite meal, Lasagna.  I didn't say anything about her comment thinking I'd play it cool.
Later that evening she said, "So, do you want to see your surprise?"
"Hell yeah I do!  What is it?"
"Come on.", she said as she led me to the bedroom.
I thought I would be getting a blow job or something, I was good with that.  I do like a good BJ.
When we got to the bedroom she pulled down her shorts and revealed a she was now clean shaven.  She had always trimmed and kept things neat and tidy, but I had never seen her like that.  I was shocked.  I had asked her many times to shave over the years but the answer was always, "No way!"  (By the way, while we all have preferences with pubic hair, if you think a grown woman shaved reminds you of a child you have serious problems.  I hear this sometimes and cannot understand how a man can think that… but hey, to each their own.)
This moment was the first step to where we are today.  A place I never saw us being many years ago.  Now she rarely wears underwear, but sports thongs and other sexy underwear as needed.  (She is not on birth control and never has a period, yet her doc says she is not menopausal and there is nothing wrong.  Just fortunate I guess.)  If I tell her to send me a nude pic, she will.  There is even the rare occasion I receive an unsolicited pic.
I honestly never saw any of these things ever being possible.  Yet, with work, lots of love and patience, here we are.  To this day she has remained shaved, it's been so long I don't remember her with hair.
Big changes are possible in your marriage if you have the drive to make big changes in yourself.  By making yourself a better man, you inspire your wife to be a better woman.  The key to making this work, at least for me, was focusing on myself and voicing what it was I wanted when the time was right.  Doing it this way she did not feel forced or coerced into doing things she was not ready for.  Her progress happened organically as she grew along with me.  This has made for a lasting positive transition in our marriage.