I've been away awhile.  I've been dealing with a few hurdles such as this torn distal bicep tendon, acquiring a new fulltime job (hopefully have that…), now my wife's father is in hospice in another state.  She hasn't been close to him for many years, her parents divorced when she was five, but you know girls and their daddy's.  He is expected to pass around the day of my scheduled surgery.  When it rains it pours huh?
Myself, there would be no hesitation, no trip for me if my wife needs me.  However, she is considering going up there for the funeral days after the surgery.  I won't go into details, but I need her here… for the first time in my life, and that's going back a ways nowadays, I need her.  The first two weeks after the surgery will suck and I will need help with virtually everything until I get used to it.  After that the bandages come off and a brace will replace them.  I will have a little more mobility with it, I hope.
While I need her here, I understand why she wants to go.  It just bothers me that it is even a question.  I haven't said anything to her, I don't think I will.  I will sound like a little bitch, but it is kinda disappointing.
I'm having a difficult time dealing with this, I have had the gym in my life since I was fifteen and now I haven't been since the injury in the beginning of January.  The recovery is four to six months after the surgery.  Do the math, 2018 is a wasted year for me.  I am the one everyone leans on for support, the idea that I now need help is nauseating to me.
Not to mention our 25th anniversary coming up in a few months.  I was about to pay for a trip to the tropics at one of those all inclusive resorts, a first for us.  Now we can't do that either.  I don't want to go all the way there with an arm that can't lift anything heavier than a "cup of coffee" as I was told…
Not to mention the timing in relation to the new job I'm potentially starting.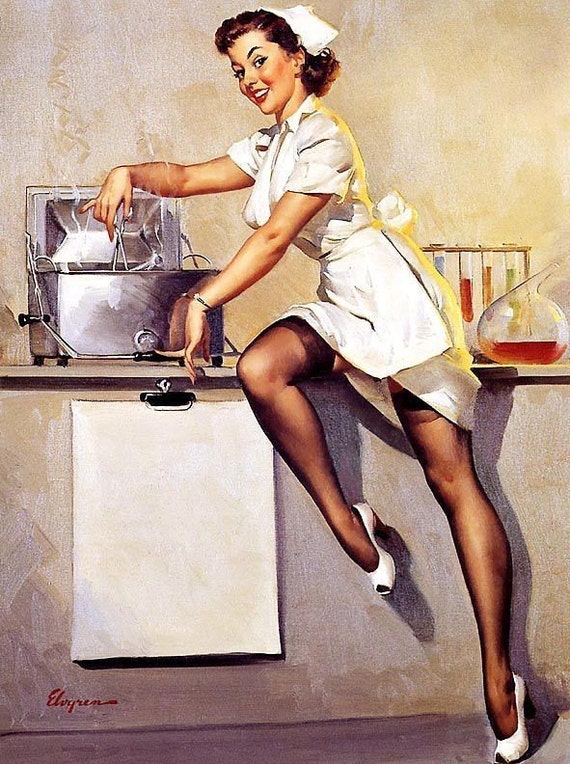 I know people deal with much worse, I tell myself that every day.  But that doesn't change my particular set of circumstances.  Between the immobility of the arm and all that goes with that, the jeopardy of the job I've worked so hard to get, the need for help this is causing, and the inability to workout, I feel like I'm fighting off a bit of depression.  Nothing bad, but damn I just don't care anymore.
I'll stop bitching now, I just needed to vent.  I always feel better when I do.  If you read this far, thanks for listening…
I hope you at least enjoy the nurse art, obviously none of the images are mine.  As usual, a variety of talented artists provided the images.